Several temporary policy changes were enacted since March 2020 to ensure international education in Canada remains competitive and sustainable.
In 2019, the Minister of International Trade Diversification, the Minister of Employment, Workforce Development and Labour, and the Minister of Immigration, Refugees and Citizenship jointly launched Building on Success, the new International Education Strategy (IES) designed to help Canada remain one of the top study destinations in the world. The strategy received a budget allocation of $147.9 million over five years followed by $8 million per year of ongoing funding to enhance and globalize education both for Canadians and international students.
Canada recognizes the significant contribution of the international education market both to the economy and in building diverse communities. In 2018, over 721,000 international students studied in the country– contributing an estimated $21.6 billion to Canada's GDP– and nearly 54,000 former students became permanent residents. As COVID-19 forced changes in the education system in 2020, the Government of Canada stays committed to its goal of investing efforts to ensure international education is viable even in a pandemic climate.
Currently, the country allows international students pursuing primary or secondary school curriculum or a program of post-secondary study that has been confirmed by a province or territory as ready to safely host international students subject to conditions set out in the Quarantine Act, and Emergency Orders: Minimizing the Risk of Exposure to COVID-19 in Canada Order (Mandatory Isolation) and Minimizing the Risk of Exposure to COVID-19 in Canada Order (Prohibition of Entry into Canada from the United States).
Furthermore, international students who qualify to enter the country are required to attend Designated Learning Institutions (DIL) designed to host international students under the authority of the province or territory in which they operate. Students can check if their institution is listed as a DLI here.

Policy Changes for International Students
In March last year, aside from embracing distance learning, learning institutions and other stakeholders in Canada's education sector implemented several temporary policy changes to ensure international students are supported during these extraordinary times. Changes include assuring students in Canada eligibility for a post-graduation work permit (PGWP) if they were forced to complete more than 50% of their program online, reduce their studies to part-time or take a break from their studies completely.
With the global pandemic compelling students to continue online learning from abroad for several more months, the Government of Canada announced in February further measures to support the international students. Temporary changes to the PGWP program implemented last year are now extended and expanded– ensuring that studies completed outside Canada will count towards a future PGWP and allowing international students to complete their entire program online from abroad to be eligible for a PGWP.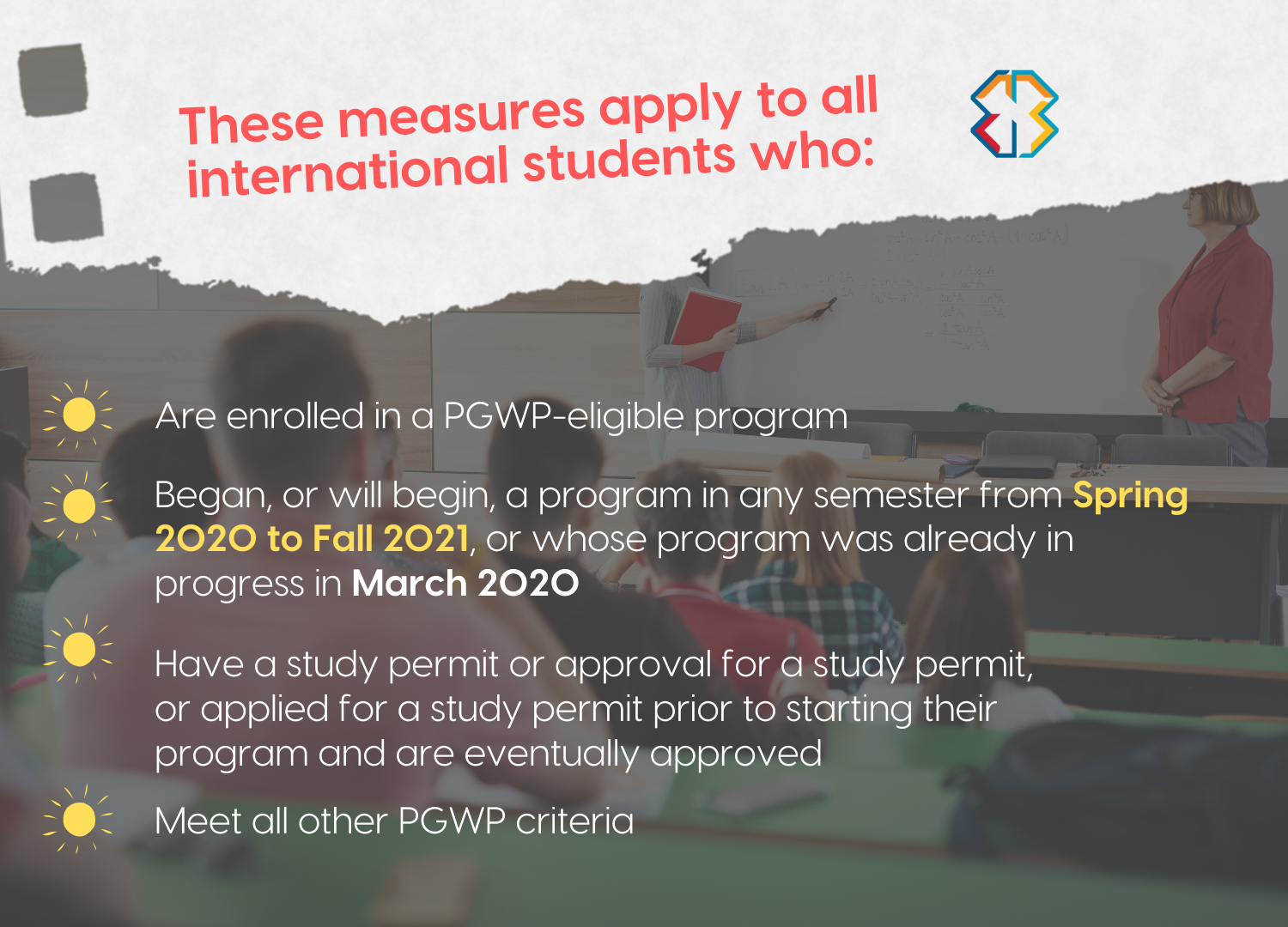 These measures apply to all international students who:
are enrolled in a PGWP-eligible program
began, or will begin, a program in any semester from spring 2020 to fall 2021, or whose program was already in progress in March 2020
have a study permit or approval for a study permit, or applied for a study permit prior to starting their program and are eventually approved
meet all other PGWP criteria
Sharing encouraging words, The Honourable Marco E. L. Mendicino, P.C., M.P., Minister of Immigration, Refugees and Citizenship, said:
"Whether as health workers on the pandemic's front lines, or as founders of some of the most promising start-ups, international students are giving back to communities across Canada as we continue the fight against the pandemic. Their status may be temporary, but the contributions of international students are lasting. This new policy means that students hoping to work in Canada after graduation won't miss out on opportunities, while ensuring that Canada meets the urgent needs of our economy for today and tomorrow. Our message to international students and graduates is simple: We don't just want you to study here, we want you to stay here."